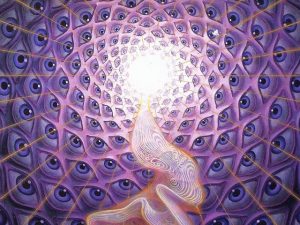 Een goed gemaakt YouTube filmpje van – Cosmic Consciousness with Jonas – over de 10 lessen die hij heeft geleerd uit zijn doorbraak ervaringen op DMT.
---
DIMETHYLTRYPTAMINE:
A mystery that seems to defy our very understanding of what it means to be a human being in this strange and beautiful universe. By looking more deeply into the nature of the incredible DMT experience, we can uncover new insights about some of life's biggest questions.
In this video, I share 10 lessons I learned from the DMT breakthrough experience.
1) Life is an infinite mystery that extends far beyond anything we could ever fathom (3:57)
2) Consciousness is not produced by the brain (4:49)
3) ALL IS ONE | ONE IS ALL (5:51)
4) "I Am That" (7:18)
5) Reduced fear of death (8:11)
6) The gift of this lifetime (8:53)
7) Pantheism and the sacredness of life (9:44)
8) The Great Awakening of Humanity (10:47)
9) Machine elves and life beyond earth (12:00)
10) The importance of integration (13:13)
This is just my subjective take, and I of course do not expect everyone to agree. The intention is more to create conversation around a topic which undoubtedly demands more attention from the scientific community as well as the religious.
---
[bol_product_links block_id="bol_5cfd5eee95d34_selected-products" products="1001004001240093,1001004001297065″ name="jiji" sub_id="" link_color="003399″ subtitle_color="000000″ pricetype_color="000000″ price_color="CC3300″ deliverytime_color="009900″ background_color="FFFFFF" border_color="D2D2D2″ width="520″ cols="2″ show_bol_logo="0″ show_price="1″ show_rating="1″ show_deliverytime="1″ link_target="1″ image_size="1″ admin_preview="1″]
Aanverwante informatie en artikelen:
-) 
Dit is een Trip – informatie over wat je op een trip kunt verwachten
-) 
Uitjebol – De Nederlandse Drugsbijbel
-)
 DMT The Spirit Molecule
: 
online PDF
 en 
de film
-)
Ayahuasca, slingerplant van de ziel
-)
Stichting Open
 – Stichting OPEN is een interdisciplinair initiatief dat onderzoek naar alle facetten van de psychedelische ervaring wil stimuleren.