Deze video serie met de titel The Greatest Truth Never Told gaat in op wat alle mensen gemeen hebben: hun behoefte en streven naar vrijheid op verschillende vlakken. Concept per concept legt Chris Duane uit hoe mensen volgens hem op 6 vlakken vrij kunnen worden.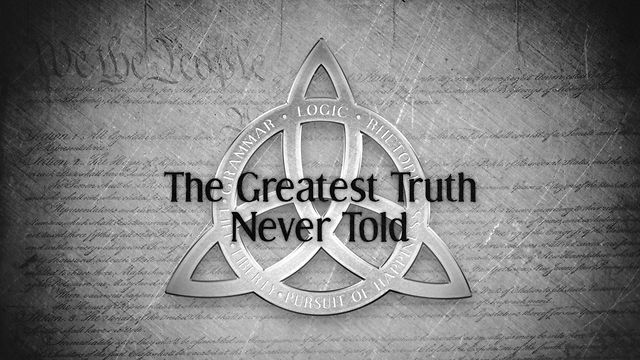 Hoewel het in het begin een beetje nationalistisch is, komen er een boel interessante denkbeelden en concepten voorbij zoals o.a. de piramide van Maslow, hoe ons onderwijssysteem een indoctrinatiesysteem is en hoe we door zelf kritisch te denken bij oplossingen kunnen komen.
Een bijkomend voordeel is dat er 1 concept per filmpje wordt uitgelegd en de filmpjes daarom dus vaak maar kort duren. In de onderstaande afspeellijst staan ze allemaal achter elkaar.
Hieronder zijn alle filmpjes per onderwerp te bekijken. Speciaal de filmpjes 19 tot 24 zijn erg nuttig voor mensen die in het proces zitten van wakker worden. Het maakt ze bekend met wat voor emoties ze kunnen verwachten en hoe daarmee om te gaan op een constructieve manier.
0)  The Greatest Truth Never Told
1)  The Riddle
2)  Believe Nothing
3)  The Tea Cup
4)  Total Freedom
5)  The Pyramid
6)  I Think?
7)  What Are We Holding On To?
8)  The Shift
9)  Things That Cannot Go On Forever
10)  The Mathematically Inevitable Collapse
11)  The Largest Event In Human History
12)  The Great Depression Is The Best Case
13)  The Paths To Success
14)  Aware and Prepared
15)  Men Go Mad In Herds
16)  What You Really Fear
17)  Always FED the Exception
18)  The Decision Matrix
19)  Stage 1. Denial
20)  Stage 2. Anger
21)  Stage 3. Bargaining
22)  Stage 4. Depression
23)  Stage 5. Acceptance
24)  Think Outside Of The Cell
25)  See The World Anew
26)  Question Everything
27)  Your Indoctrination
28)  Technical Difficulties
29)  The Key To Freedom
30)  Normalcy Bias
31)  Cognitive Dissonance
32)  Doublethink
33)  Societal Illusions
34)  There Are Only 2 Kinds Of People …
35)  Wolves In Sheeps Clothing
36)  Divide and Conquer
37)  Centers of Power
38)  Identifying Different Psychopaths
39)  The Real 99 Percent
40)  How to Deal With the 1 Percent
41)  You Make Plans… They Make Plans
42)  The Duck Dinner
43)  The Rigged Game
44)  Confiscation and Inflation
45)  30 Reasons To Get Out Of Real Estate Part 1
46)  30 Reasons To Get Out Of Real Estate Part 2
47)  The Shock Of A New Paradigm
48)  Our Great Depression
49)  This Revolution Will Not Be Televised
50)  3 Coming False Flags Attacks
51)  Top 5 Places NOT To Be In A Dollar Collapse
52)  5 Reasons Why American Riots Will Be The Worst In The World
53)  The 2 Paths Of Life
54)  Fearless
55)  Delete Facebook
56)  No One Is Coming To Save You
57)  Not Good Enough
Tot zover The Greatest Truth Never told, Chris Duane is overigens ook de persoon die The Liberty Academy heeft opgezet. Dus mocht je dit interessant vinden dan is in The Liberty Academy veel uitgebreidere informatie over deze onderwerpen te vinden. Zie: The Liberty Academy.
Aanverwante artikelen en informatie:
-) Homepage The Greatest Truth Never Told
-) The Liberty Academy (is door dezelfde persoon samengesteld)
-) Propaganda, Noord-Korea over het Westen
-) Permacultuur in Nederland en omgeving
-) Transition Towns met Rob Hopkins
-) Tegenlicht – Power to the People
-) Goedkoop op wereldreis, 3 strategieën
Op de hoogte blijven van nieuwe berichten? Like ons op Facebook en/of volg ons op Twitter!
Een nieuw gezichtspunt leren kennen, iets geleerd en/of gelachen? Overweeg een donatie/vrijwillig abonnement.